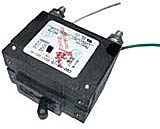 Model
Price
MAPP Price
Size
Shipping
Weight
MNDC-GFP80
$88.00
1 1/2" wide, 1/4" studs for Electrical connection
1 lbs
DESCRIPTION:
80 amp 150VDC panel mount DC ground fault protector (NRTL listed breaker assy) 1/2 amp trip mechanism connects between battery negative and earth ground NEC2008 requires DC-GFP's on all solar installations.
10,000 AIC
MidNite's breakers are rated to break the full rated load at the rated voltage repeatedly, with NO DAMAGE. Always use a properly sized breaker for disconnecting.
All MidNite circuit breakers can be used at 100% rated current when mounted in a MidNite enclosure.
Breaker Torque Value: 30 In-Lbs (3.4NM)
NON POLARIZED
Width 1.5 inches (39mm)
Environmental Rating - Type 1 (Indoor)
Listed for US & Canada
California Residents: Warning