MNEDCQUAD
(Previous Model Num: MNEDC-Quad)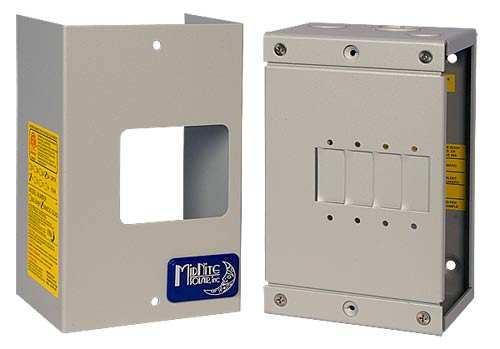 Model
Price
MAPP Price
Size
Shipping
Weight
MNEDCQUAD
$92.00
8"L x 5"W x 4"D
9"L x 6"W x 5"D
4 lbs
DESCRIPTION:
General use powder coated aluminum enclosure for 4 panel mount type breakers from 5 - 100 Amp.

Not recommended for use with cables larger than awg #4 (19mm).
Environmental Rating - Type 1 (Indoor)
Max. AC Voltage - Up to 240Vac
Max. DC Voltage - DC up to 300Vdc
Warranty - 5 yrs.
Listed by ETL for US & Canada
Made in the USA
California Residents: Warning
ACCESSORIES

MNDC-GFP80
-
$88.00
80 amp 150VDC panel mount DC ground fault protector (NRTL listed breaker assy) 1/2 amp trip mechanism connects between battery negative and earth ground NEC2008 requires DC-GFP's on all solar installations.
---

MNDC-GFP100RT-2P
-
$165.00
100 amp 150VDC panel mount Dual DC ground fault protector (NRTL listed breaker assy)
---

MNEDC 5A thru 100A
-
$27.00
5, 10, 15, 20, 30, 40, 50, 60, 70, 80, 90, 100 amp 150VDC Panel Mount. 10,000 AIC
---

---