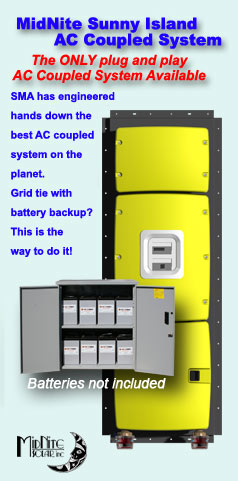 THE COMPANY
Company Profile
MidNite Solar is an innovative manufacturing company that started by making high-quality, cost-effective AC and DC disconnect boxes for the alternative energy industry. Now, MidNite produces a wide range of alternative energy products.

A new line of MidNite products being developed is the MNB17-F5 and the MNB17-F3. The MNB17 series is one of the most advanced modular battery-based inverter/charger systems ever devised. Modular construction means no heavy parts to lift and fasten to the wall. The MNB17 series systems are hot swappable and available in various voltage configurations. Talking graphics panel will speak in English, Spanish and French. MidNite is the only manufacturer of a system like this and it will change the renewable energy industry forever.

The new Rosie Inverter/Charger is another exciting addition coming to the family of MidNite Solar Inverters! The Rosie is the most versatile inverter/charger in its class, it's ideal for medium renewable energy systems. The Rosie has an optional E-Panel that comes with required AC and DC input breakers, includes inverter bypass breakers.

MidNite has added two new products to their line of Maximum Power Point Tracking (MPPT) charge controllers, The Barcelona (MNBCLNA) and The Hawke's Bay. The Barcelona is ideal for larger DC coupled battery based on-grid and off-grid installations. The Barcelona has an optional breaker box available (MNBCLNA-BB). The Hawke's Bay comes in two models, the MNHAWKE'S BAY 90 and the MNHAWKE'S BAY 120. Both models have optional breaker boxes available (MNHAWKE'S BAY BB-125).

MidNite Solar has just added a new line of DIY Inverter and Charge Controllers. The DIY line comes with a warranty fully backed by MidNite and as always, the best technical support team in the business at an exceptional price. Compatibility with virtually any battery chemistry and fully adjustable set points make this line diverse enough for nearly any small residential solar application.

MidNite's Classic series of MPPT charge controllers are the most sophisticated, full featured controllers on the market as well as being the only ETL listed controllers designed to work with Solar, Wind, and Micro Hydro Electric systems.

MidNite offers a full line of pre-wired, battery-based systems for standalone off grid, battery-based grid tie, as well as AC coupled battery backup installations. MidNite features SMA, Schneider / Xantrex and Magnum Energy Inverters in our pre-wired systems, providing a wide range of solutions for residential and commercial projects.

MidNite Solar is the largest manufacturer of combiner boxes in North America from the MNPV3 to the MNPV10-1000.

MidNite's full range of Surge Protection Devices (SPD) offer the highest levels of protection from lightning and power line surges. They're very competitively priced.