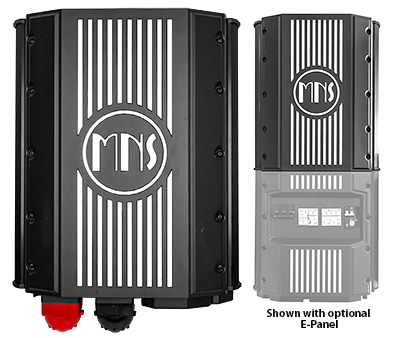 Model
Price
MAPP Price
Size
Shipping
Weight
MNROSIE7048RE
$4,350.00
$3,262.50
13-15/16 W x 20-9/16L x 8D
18 W x 23-1/4 L x 12-1/4D
43 lbs
DESCRIPTION:
The ROSIE INVERTER is the most versatile inverter/charger in its class. Ideal for medium renewable energy systems.
Provides 120 or 120/240VAC output in one unit
7000 watts / 48 volt DC
120 amp charger
2 aux input/outputs
True sine wave inverter with charger
Listings: UL1741, UL458 & CSA
Screened (gecko/mud dauber proof)
Quiet forced air cooling over heat-sink fins and transformer compartment
SOC monitoring with MidNite Wizbang Jr. and MNGP2
Die cast aluminum enclosure
Auto gen start (two-wire generators)
BTS included
Remote battery voltage sensor
Canbus communications
Built in Arlington, WA USA
Add on a Rosie E-Panel (comes with required AC and DC input breakers, includes inverter bypass breakers)
ACCESSORIES

MNE300ROSIE-240P
-
$890.00
The Rosie E-Panel is an AC and DC enclosure offering over-current protection (OCP) and disconnects for AC IN, AC OUT, and to the battery bank.
---