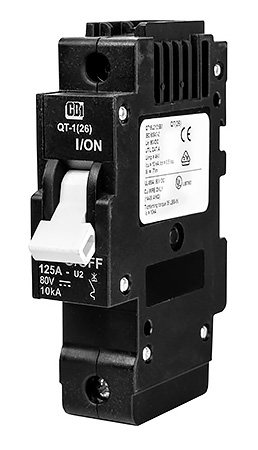 Model
Price
MAPP Price
Size
Shipping
Weight
MNEPV125-80-1PNP
$45.00
1 lb lbs
DESCRIPTION:
125 Amp, 80 Volt DC breaker
MidNite's breakers are rated to break the full rated load at the rated voltage repeatedly, with NO DAMAGE. Always use a properly sized breaker for disconnecting.
Breaker Torque Value: 35 In-Lbs (4NM)
All MidNite circuit breakers can be used at 100% rated current when mounted in a MidNite enclosure.
125 Amps / 80 Volts DC
NON POLARIZED
Width 1 inche (25.4mm) - 1/4 inch studs
Environmental Rating - Type 1 (Indoor)
Warranty - 5 yrs.
Listed for US to UL 489A
Dual mount Din and Mini
-40C to +85C
14 to 1/0 AWG
California Residents: Warning
DC circuit breaker Hydraulic-magnetic technology 100% rating capability, independent of ambient temperature One, two, two pole bridged and four pole (2pole + 2pole bridged) VDE and CCC approved, CE certified UL 489A listed IEC 60947-2 and AS/NZS 60947-2 approved Ratings 70 A to 250 A Precision tripping characteristics Can be switched immediately after tripping Dual mount product in black shells