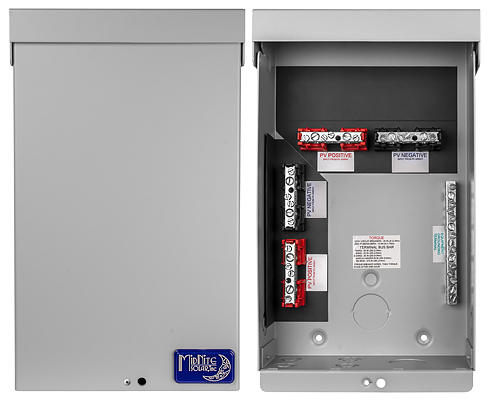 Model
Price
MAPP Price
Size
Shipping
Weight
MNTRANSITION
$146.00
13.5"L x 8"W x 3.5"D
14"L x 9"W x 4"D
4 lbs
DESCRIPTION:
1000 volt transition box. Gray aluminum type 3R rainproof enclosure.
Photo shows MNTRANSITION, it is made to transition from PV wire to standard wire and is good for 1000 volts DC. It works for 2 isolated outputs and up to 4 strings of PV.
Includes 15 position GROUND BAR. When used on a system over 600 volts be sure to use 1Kv or higher rated wire both in and out. Standard THHN/THWN Wire is only rated to 600V.
Type 3R environmental rating
Listed by ETL for US & Canada
Made in the USA
California Residents: Warning