Combiners - Disconnecting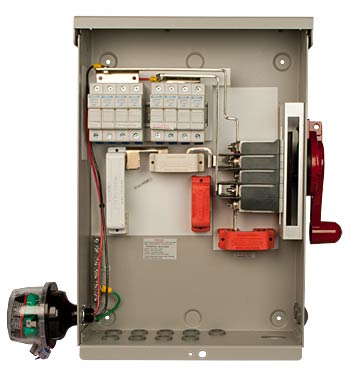 Model
Price
MAPP Price
Size
Shipping
Weight
MNPV8HV-DISCO 3R
$1169.00
18.5"L x 14"W x 4.6"D INCLUDING HANDLE
24"L x 19"W x 6"D
16 lbs
DESCRIPTION:
MNPV8HV-DISCO 3R PV Disconnecting Combiner, 5 poles, 80 or 160 amp busbars depending on how they are configured. Switch is a 100 amp load break rated or 175 amps load break rated depending on configuration, 600 volt max.
The MNPV8HV-DISCO 3R's red handle is LOCKABLE IN THE OFF POSITION!
Convertible configuration (field configurable)
Eight strings combined for up to 160 Amps single 230 Amp/600V single pole disconnect)
4 + 4 positive strings, separate PV+ and PV- for use with 2 inverters (2 pole 115 Amp disconnect)
Four strings positive, four strings minus for use with non-isolated inverters (2 pole 115 Amp disconnect)
Load Break Rated
Type 3R aluminum enclosure (no rust, won't turn to dust)
90o C connections
See thru deadfront & color coded busbar guards included
Fuseholders (MNTS) installed
15a/600v fuses installed
600 volt max
Warranty - 5 yrs.
Listed by ETL for US
Made in the USA
Hardware Includes:
One MNSPD-600 (Surge Protection Device)
Eight 1/2" strain reliefs (MNSR-1000)
Eight 1/2" LOCKNUTS
One 10-32 X 7/8" BOLT
Two 10-32 X 3/8" FHP
Six 10-32 KEPS NUT
One TERMINAL PIN 18-22 AWG.
One TERMINAL PIN 10-12 AWG.
Two RING TERMINAL 10-12 AWG.
One BUSBAR, NEGATIVE OUT 2
One BUSBAR, POSITIVE OUT 2
One BLUE WRENCH
The difference between the regular Disco combiner and the DLTL version is that the MNPV8HV-Disco-4X is made for a single 8 string inverter, 2 4 sting inverters or one 4 string transformerless where as the DLTL is set up for 4 strings in and 2 strings out for Dual MPPT on transformerless
MNPV8HV Assembly Instructions
Two Inverter Conversion
NON-Isolated Conversion
Parallel Conversion
Read PDF on the Discos
- 11 MB
California Residents: Warning
Model
Price
MAPP Price
Size
Shipping
Weight
$1169.00
18.5"L x 14"W x 4.6"D INCLUDING HANDLE
24"L x 19"W x 6"D
16 Lbs.
Same combiner only with 20 amp fuses.
ACCESSORIES

MNCAT5-600
-
$2.25 per ft.
Cat-5 cable to connect disconnecting combiners and arc fault combiners to the Birdhouse.
---

MNCAT5-600-FULLROLL
-
$2285.00
Cat-5 cable to connect disconnecting combiners and arc fault combiners to the Birdhouse in a 1600ft roll.
---

MNTS-12PK
-
$84.00
MNTS - Mersen Touch Safe Fuse Holder for10x38 mm fuses 1000VDC 30 amp Din rail mount Use in the MNPV combiners for high voltage string inverters. MNTS-12PK
---

MN600FUSE
-
$3.75
Goes with MNTS fuse holder. The fuses are industry standard 10mm x 38mm fuses.
---