MNPV6-250 DISCO
(Previous Model Num: MNPV6-250-DISCO)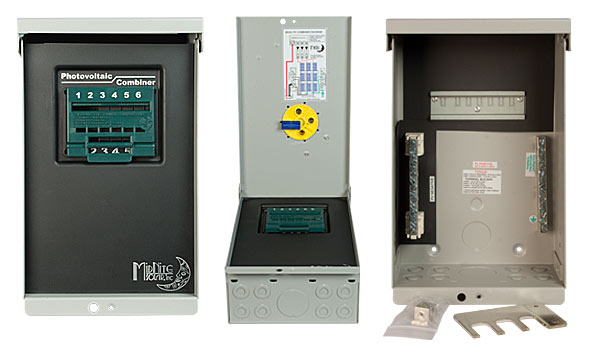 Model
Price
MAPP Price
Size
Shipping
Weight
MNPV6-250 DISCO
$346.00
13.2"L x 8"W x 6.2"D
15"L x 9"W x 7.25"D
6 lbs
DESCRIPTION:
Enclosure only - NOT COMPATIBLE WITH THE BIRDHOUSE.
This 3R MNPV6-250 DISCO combiner is one in a series of disconnecting PV combiners from MidNite Solar. This model includes the buss-bar to use up to 3 of our 300 volt DC breakers as a 3 string DC combiner.
The MNPV6-250 DISCO's red handled is LOCKABLE IN THE OFF POSITION!
Off-grid PV combiner for use with up to 3 300VDC breakers with the included buss-bar. Also included is the deadfront (
MNPV6DF
) and the
MNPV6-DISCO-SLIDER
. Load break rated.
Depending upon the model number, you can use:
Type 3R environmental rating
DC 600V (1 circuit Pos or Pos and Neg switched) Part no. MNPV6
DC 300V (3 circuits) Part #MNPV6-250
DC 150V (6 circuits) Part #MNPV6
AC 120v 20 amps (6 circuits) Part #MNPV6
AC 240v 40 amps (3 circuits) Part #MNPV6-AC Micro
AC and DC can be installed in the same box!
Example:
600Vdc 20 amp PV in and 40 amp 240Vac Inverter output
Enclosure only with the busbar shown.
MNPV6 3R Disco Assy Instructions
Warranty - 5 yrs.
Listed by ETL for US & Canada
Made in the USA
California Residents: Warning
ACCESSORIES

MNEPV-300 7A thru 50A
-
$46.00
7, 10, 12, 15, 20, 50 amp 300VDC din rail mount breaker. 10,000 AIC
Note: Branch circuit rated 489A
---

MNSPD-300-DC
-
$135.00
The MidNite Solar 300V Surge Protector Device (MNSPD) is a Type 1 device per UL1449 rev3 and has an outdoor rating of 4X for outdoor use. Protection for Classic and other charge controllers, off grid PV combiners and 120/240 VAC circuits.
---

---

MNSR-1000-25PK
-
$74.50
This 1/2 in 1000V Heyco Strain Relief accepts two 6mm PV wires. Nut is included.
---