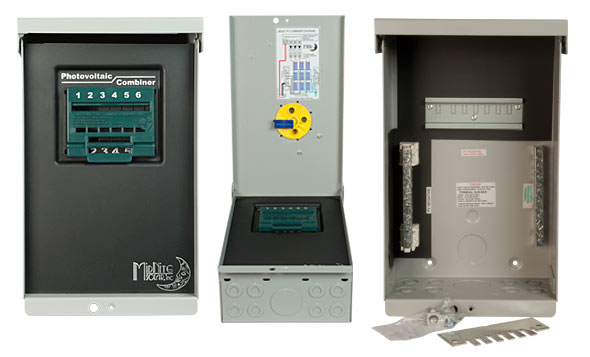 Model
Price
MAPP Price
Size
Shipping
Weight
MNPV6-Disco
$335.00
13.2"L x 8"W x 6.2"D
15"L x 9"W x 7.25"D
6 lbs
DESCRIPTION:
Enclosure only - NOT COMPATIBLE WITH THE BIRDHOUSE.
This 3R MNPV6 DISCO combiner is one in a series of disconnecting PV combiners from MidNite Solar. This model will support several different configurations. You can use 6 of our 150 volt DC breakers and included buss-bar for a 6 string disconnecting combiner. You also will be able to install 1 of our 600 volt DC breakers making a nice grid tie disconnect.
The MNPV6-Disco's red handled is LOCKABLE IN THE OFF POSITION!
The MNPV6 Disco is very flexible. It is ETL listed for AC and DC. This allows you to configure it for several different uses. It will work with 1-6 of our 150 volt DC breakers. The combiner also works with 1 of our 600 volt DC breakers for a grid tie disconnect. You can also install a 240 volt AC breaker with the 600 volt DC breaker to make a complete disconnect for a grid tie inverter. Load Break rated. This configuration makes a compact Grid Tie disconnect for those applications where the built in switch won't do the trick. We have 16 and 20 amp 600VDC breakers. We stock 120V and 240VAC breakers.
Depending upon the model number, you can use:
Type 3R environmental rating
DC 600V (1 circuit Pos or Pos and Neg switched) OR DC 150v (6 Circuits) OR AC 120v (6 circuits) use the Part no. MNPV6-Disco combiner
DC 300V (3 circuits) Part #MNPV6-250-Disco combiner
AC 240v 40 amps (3 circuits) Part #MNPV6-AC Micro-Disco combiner
AC and DC can be installed in the same box!
Example:
600Vdc 20 amp PV in and 40 amp 240Vac Inverter output
Enclosure only
MNPV6 3R Disco Assy Instructions
Warranty - 5 yrs.
Listed by ETL for US & Canada
Made in the USA
California Residents: Warning
ACCESSORIES

MNEAC-2P 15A thru 25A
-
$45.50
15, 20 & 25 amp din rail mount 120/240 VAC Branch circuit rated 489 two pole. 10,000 AIC
---

MNEAC-2P 30A thru 60A
-
$45.50
30, 50, 60 amp din rail mount 120/240 VAC Supplementary protection 1077 two pole. 3,000 AIC
---

---

MNEPV 1A thru 63A
-
$22.00
150VDC din rail mount breaker available in 1 to 63 amps (13mm wide).
---

MNSPD-300-DC
-
$135.00
The MidNite Solar 300V Surge Protector Device (MNSPD) is a Type 1 device per UL1449 rev3 and has an outdoor rating of 4X for outdoor use. Protection for Classic and other charge controllers, off grid PV combiners and 120/240 VAC circuits.
---

---

MNSR-1000-25PK
-
$74.50
This 1/2 in 1000V Heyco Strain Relief accepts two 6mm PV wires. Nut is included.
---