MNEPV-600RT 16A
POLARIZED
MNEPV16-600RT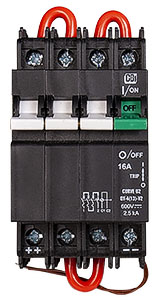 Model
Price
MAPP Price
Size
Shipping
Weight
MNEPV-600RT 16A
$152.00
2 lbs
Model
Price
MAPP Price
Size
Shipping
Weight
$152.00
DESCRIPTION:
16 Amp 600 VDC Din Rail mount breaker. All MidNite circuit breakers can be used at 100% rated current when mounted in a MidNite enclosure.
MidNite's breakers are rated to break the full rated load at the rated voltage repeatedly, with NO DAMAGE. Always use a properly sized breaker for disconnecting.
Read about the
165 VDC ETL TEST STORY
POLARIZED
Environmental Rating - Type 1 (Indoor)
Breaker Torque Value: 20 In-Lbs (2.3NM)
Current Rating - 16A
DC Voltage Rating - 600VDC
Wire Size Range - 14 to 6 AWG
Width - 2 inches (52mm)
Number of poles - 4
Warranty - 5 yrs
Listed for US & Canada when used in MidNite Solar enclosures
A case contains 2 breakers.
California Residents: Warning
ACCESSORIES

MNPV6-Disco
-
$335.00
This 3R MNPV6 DISCO combiner is one in a series of disconnecting PV combiners from MidNite Solar. This model holds up to 6 poles of our common MNEPV and or MNEAC CBI breaker. This model will support several different configurations.
---