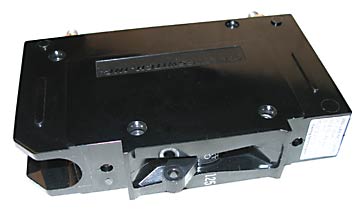 Model
Price
MAPP Price
Size
Shipping
Weight
MNEDC125RT
$70.00
Width 1 inch (25.4mm) - 1/4 studs
2 lbs
DESCRIPTION:
125amp 125VDC Panel Mount
AIC 10,000 at 125VDC
MidNite's breakers are rated to break the full rated load at the rated voltage repeatedly, with NO DAMAGE. Always use a properly sized breaker for disconnecting.
Breaker Torque Value: 30 In-Lbs (3.4NM)
All MidNite circuit breakers can be used at 100% rated current when mounted in a MidNite enclosure.
NON POLARIZED
Width 1 inche (25.4mm) - 1/4 inch studs
Environmental Rating - Type 1 (Indoor)
Warranty - 5 yrs.
Listed for US & Canada
Includes two 6-32 x 5/16" Pan Head Phillips mounting screws
A case contains 10 breakers.
California Residents: Warning
ACCESSORIES

MNBREAKER PROTECTOR
-
$33.50
The Breaker Protector will keep the 175 or 250 Amp Breaker from being accidentally hit.
---

MNDC15
-
$425.00
General use enclosure for 15 panel mount type breakers from 5 - 100 Amp as well as a single 125, 175 or 250 amp breaker if so desired.
---