MNEACQZD-2P 25A thru 60A
VAC Breaker
MNEAC25QZD-2P, MNEAC30QZD-2P, MNEAC40QZD-2P, MNEAC50QZD-2P, MNEAC60QZD-2P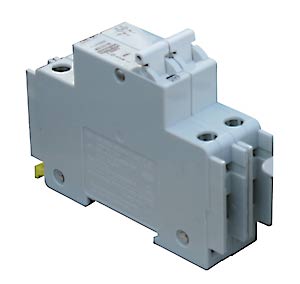 Model
Price
MAPP Price
Size
Shipping
Weight
MNEACQZD-2P 25A thru 60A
$45.50
Width 1 inch (26mm)
1 lbs
Model
Price
MAPP Price
Size
Shipping
Weight
$45.50
$45.50
$45.50
$45.50
$45.50
DESCRIPTION:
White 30, 50, 60 amp din rail mount 277VAC Supplementary protection 1077 double pole.
3,000 AIC
MidNite's breakers are rated to break the full rated load at the rated voltage repeatedly, with NO DAMAGE. Always use a properly sized breaker for disconnecting.
All MidNite circuit breakers can be used at 100% rated current when mounted in a MidNite enclosure.
Breaker Torque Value: 20 In-Lbs (2.3NM)
Width 1 inch (26mm)
Environmental Rating - Type 1 (Indoor)
Listed for US & Canada
California Residents: Warning