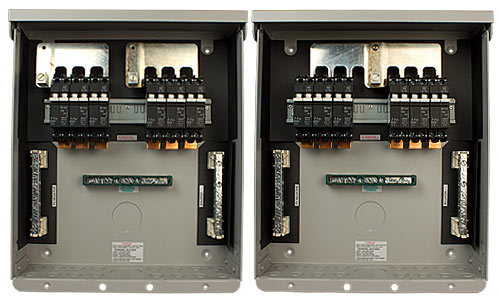 Model
Price
MAPP Price
Size
Shipping
Weight
MNPV12-250
$342.00
14.5"L x 12W" x 3.5"D
16"L x 14"W x 5"D
8 lbs
DESCRIPTION:
Enclosure only
(For 200 and 250VDC charge controllers) Gray aluminum type 3R rainproof enclosure with insulating dead front, will accept 6 300VDC breakers.
Includes two 15 position PV negative bus bars, 15 position ground bus bar, and 168 amp Plus bus bar for breakers. Plus bus bars can be combined or separated to support 2 high voltage charge controllers.
Breakers/fuse holders sold separately.
Type 3R environmental rating
Listed by ETL for US & Canada
Made in the USA
California Residents: Warning
ACCESSORIES

MNEPV-300 7A thru 50A
-
$46.00
7, 10, 12, 15, 20, 50 amp 300VDC din rail mount breaker. 10,000 AIC
Note: Branch circuit rated 489A
---

MNSPD-300-DC
-
$135.00
The MidNite Solar 300V Surge Protector Device (MNSPD) is a Type 1 device per UL1449 rev3 and has an outdoor rating of 4X for outdoor use. Protection for Classic and other charge controllers, off grid PV combiners and 120/240 VAC circuits.
---