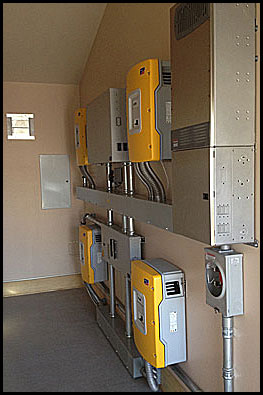 Positive Energy Solar, Santa Fe, New Mexico

Large residential battery backup PV system with utility and generator backup
Four-year project, completed spring of 2013
Four Wattsun trackers and 48 SunPower SPR327NE modules for 15.7KW total array.
Three SunPower SB5000 and one SB4000 Inverters (the smaller unit necessary to stay within NEC limits).
Sunny Island 5048US 20KW Quad stack with additional 8KW Outback Radian GS 8048 for dedicated observatory circuits.
Three parallel strings of GNB Absolyte 100G31 AGM batteries for 240kW storage capacity (to 1.75 vpc).
30KW Cummins LP backup generator.