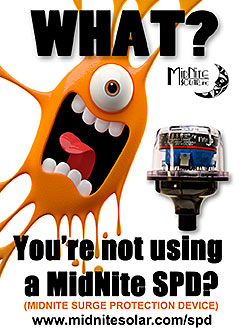 DOCUMENTS - E-Panel - SMA
MNE250SMA-AC-SINGLE
The MNE250SMA-AC-SINGLE master includes the Manual input/output bypass system along with separate AC input and output breakers.
MNE250SMA-OG SINGLE
The MNE250SMA-OG-SINGLE The Off Grid Single is designed for a single Sunny Island off grid system.
MNE250SMA-OG/AC DM
The MNE250SMA-OG/AC DM The Dual Master E-Panel works with 1 of the MNE250SMA-Slave E-Panel's to create a 120/240 VAC AC coupled or Off Grid system.
MNE250SMA-QUAD MSTR
The MNE250SMA-Quad Mstr This E-Panel works with 3 of the MNE250SMA-Slave E-Panels to create a Quad stack of Sunny Islands.
MNE250SMA-3PH MASTER
The MNE250SMA-3PH Master E-Panel works with 2 of the MNE250SMA-Slave E-Panels to create a 3 phase system.
MNE250SMA-SLAVE
Companion E-Panel for dual, triple and quad Sunny Island inverter systems.
MNX-240 AUTOFORMER
6000 Watt Autoformer for single inverter AC Coupled systems.
MNESMA-TALL-BP
SMA tall back plate for AC coupled Single Master. Holds inverter, E-Panel and Autoformer MNX-240.
MNSICOMM
Converts the
Classics
Modbus into Canbus for the SMA giving the SMA system full control of the
Classic
.
MNBCB 1000/50
MidNite 1000amp Battery combiner box. Useful for dual Radian inverters or multiple Sunny Island inverters as well as for combining multiple strings of batteries.