Great for RV, Marine & Recreational Cabin Solar Systems!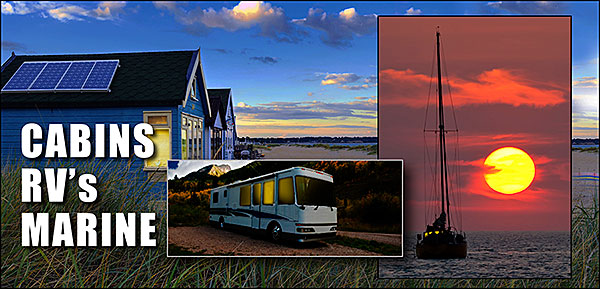 The Kid, a 30A Charge Controller, is made for small to medium sized renewable energy systems. It's ideal for cabins, boats, RVs and other similar applications. It utilizes Maximum Power Point Tracking (MPPT) technology to optimize output from your solar array.
THE KID IS CERTIFIED TO UL1741 & UL458 (MARINE SUPPLEMENT)
With the UL458 marine supplement, THE KID meets very strict vibration, environment, and thermal requirements.

MORE POWER -
As your power needs increase, add an additional Kid and more solar panels to your array for twice the power from a single run of PV wires.
AUTO GENSTART (AGS) -
​The Kid is available with a 2-wire Smart AGS. The Kid Smart AGS will start a generator and then monitor the batteries to ensure proper charging. If the AGS fails to charge, the generator will be turned off saving fuel. AGS is user adjustable.
BATTERIES -
The Kid ​can charge 12, 24, 36 or 48 volt battery banks. It supports charging traditional flooded, AGM or Gel batteries and newer technologies such as Lithium and Calcium SMF.
LOAD CIRCUIT -
A unique feature of the Kid is the load circuit. This versatile feature can be used for many purposes including running well pumps, electric fences, or billboard lights​ in remote areas​.
LOAD DUMPING -
The Kid has a mode that allows excess energy coming in from the PV array to be diverted to run hot water heaters or other electrical loads. This feature ensures you get the most out of your Kid during times of peak energy production.
CUSTOMIZABLE LIGHTING CONTROLLER -
The Kid sports a highly customizable lighting controller. It can be set to turn on automatically at dusk, off at a specified time, and then back on at another preset time and off automatically at dawn. This is called Dusk Plus and Dawn Minus. Using Dusk Plus and Dawn Minus has the distinct advantage of saving battery power. This setting is great for accent lighting in residential areas or for running grow lights in greenhouses.
LCD & LED MONITORING -
All parameters of your Renewable Energy System can be monitored right from the LCD display.​ LEDs indicate if your batteries have been fully charged in the last 2 weeks, numerical read outs show PV input and battery voltage, as well as state of charge.
CURRENT SENSING MODULE -
Add the Whizbang Jr, our current sense module to the mix and you have a complete State of Charge Meter.

BATTERY TEMP SENSOR -
The battery temperature sensor will help charge your batteries by adjusting the charge voltage depending on the battery temperature. ​The Kid marine version comes standard with a battery temp sensor.
MARINE MOUNTING BRACKET -
The Marine Kid comes standard with the marine mounting bracket and makes for a beautiful Kid co-pilot.
COMPACT DESIGN -
We understand space can be a struggle in a boat or RV. With that in mind we kept the physical design of the Kid compact ​without sacrificing performance.
SEALED FOR HARSH ENVIRONMENTS -
All Kids are sealed for harsh environments! IP64 Rating - Type 1
The Kid Charge Controller is the most versatile Charge Controller of its class on the market today. The only one made right here in the USA. See your local dealer or check out our "Where To Buy Section" to order your very own Kid today!
Need some basic application ideas for your KID, take a look at these flow diagrams.
NOTE: NOT INTENDED TO BE USED AS WIRING DIAGRAMS.
For actual wiring diagrams check out the
Kid Documents
.
NOTE: These flow diagrams are not intended as wiring diagrams and are used only to display basic application concepts!
Here is a great tool for configuring your Kid solar system!
| | |
| --- | --- |
| | If you would like to embed this tool into your website just copy and paste this code into your web page. |
Recommended Accessories



MNKID-WMBB - $55.00
Wall mounting bracket for MNKID and MNKID-M. Available in black or white.

---



MNPV3 - $129.00
Gray aluminum type 3R rainproof enclosure with deadfront, will accept three 150VDC (MNEPV) breakers or two 600 VDC fuse holders.

---



MNSBB - $19.00
(Midnite Short Busbar) Shorter version of the insulated bus bars. These are useful for PV+ input on the narrow OB E-Panel and for a separate PV- bus bar for charge controllers that require them. 180 amps. Four #6 and two 1/0 wire slots.

---



MNSBBN - $10.00
MNSBBN - 2.3" long. Two 1/0 & four #6 wire slots. 180 amps. Comes with mounting screw& nut #10-32 x 7/8". Made in USA, NRTL recognized.

---



MNBABYBOX - $49.00
General use powder coated aluminum enclosure for retrofits, small inverter disconnect, PV disconnect, AC or DC distribution.

---



MNBIGBABY - $60.00
General use enclosure - holds up to 4 13mm wide din rail breakers from 1-63 amps.

---



MNEDCQUAD - $76.00
General use aluminum enclosure for 4 panel mount type breakers from 5 - 100 Amp.

---



MNSPD-300-DC - $135.00
The MidNite Solar 300V Surge Protector Device (MNSPD) is a Type 1 device per UL1449 rev3 and has an outdoor rating of 4X for outdoor use. Protection for Classic and other charge controllers, off grid PV combiners and 120/240 VAC circuits.

---



MNEPV 1A thru 63A - $18.00 ea or $200.00 12 pack
150VDC din rail mount breaker available in 1 to 63 amps (13mm wide).

---



MNEDC 5A thru 100A - $22.00
5, 10, 15, 20, 30, 40, 50, 60, 70, 80, 90, 100 amp 150VDC Panel Mount. 10,000 AIC

---



MNWBJR - $69.00
The Whiz Bang Jr is a current sense module that attaches to the standard 50mv / 500A Shunt and wires into the Classic and KID charge controllers to give Amperage readings from the shunt. To use the Whizbang Jr (MNWBjr) with any of the Classic Lites, you will either need the local app or an MNGP.

---



MNSHUNT - $43.00
Shunt - This is the industry standard shunt.

---



MNKID-ASSY-KIT - $126.00
MNKID accessory mounting kit. Comes in white or black.

---



MNKID-M-BKT
Marine mounting bracket. Can be used with the MNKID-B or MNKID-M-W. Comes in black or white.

---



MNKID-CDT-KIT - $39.00
MNKID conduit kit used to install the KID MPPT Charge Controller.

---



MNKID-BREAKER-30A - $16.00
Miniaturized single pole press-to-reset cycling trip free thermal circuit breaker used in the KID MPPT Charge Controller.

---



MNBTS - $27.00
Remote Temperature Sensor - for use with inverter or charge controller.

---



MNNWC3 - $9.00
3 foot cable for the MidNite network. Used to network MidNite products together.

---
Retail Outlets
For a more complete list of ONLINE DEALERS, STOCKING DISTRIBUTORS, STOCKING RESELLERS, ELECTRICAL SUPPLIERS and INTERNATIONAL outlets Click Here!

For all pricing information and accessories check out
MidNites price list.
You can download MidNite's complete price list in
PDF
or
Excel
formats.

---