Combiners - Disconnecting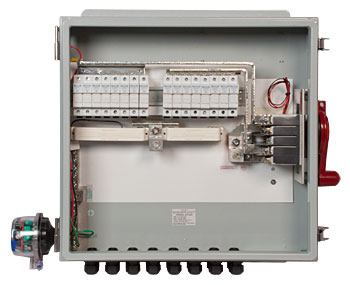 Model
Price
MAPP Price
Size
Shipping
Weight
MNPV16HV-DISCO 4X
$2130.00
21.6"L x 19.9"W x 5.8"D INCLUDING HANDLE
26"L X 24"W X 6"D
27 lbs
Model
Price
MAPP Price
Size
Shipping
Weight
$2130.00
21.6"L x 19.9"W x 5.8"D INCLUDING HANDLE
26"L X 24"W X 6"D
27 Lbs.
Same combiner only with 20 amp fuses.
DESCRIPTION:
MNPV16HV Disco 4X PV Disconnecting Combiner, 5 poles, 100 amp load break rated or 175 amps load break rated for busbars and switch, 600 volt max.
The MNPV16HV DISCO 4X's red handle is LOCKABLE IN THE OFF POSITION!
Convertible configuration (field configurable)
Sixteen strings combined for up to 230 Amps single pole disconnect)
8 + 8 strings, separate PV+ and PV- for use with 2 inverters (2 pole 115A disconnect)
8 strings plus, 8 strings minus for use with non-isolated inverters (2 pole 115A 600VDC disconnect)
See thru deadfront & color coded busbar guards included
Load Break Rated
Type 4X aluminum enclosure (no rust, won't turn to dust) conduit/strain relief holes punched
90o C connections
Fuseholders (MNTS) installed
15a/600v fuses installed
Warranty - 5 yrs.
Listed by ETL for US
Made in the USA
Hardware Includes:
One MNSPD-600 (Surge Protection Device)
Sixteen 1/2" strain reliefs (MNSR-1000)
Twenty 1/2" LOCKNUTS
Fourteen HOLE PLUGS with Gaskets (MNHOLE PLUG 1/2)
Two 10-32 X 7/8" SCREWS
Two 10-32 X 3/6" SCREWS
Two 3/8 X 16 X 7/8" BOLTS
Twelve 10-32 KEPS NUT
One TERMINAL PIN 18-22 AWG.
One TERMINAL PIN 10-12 AWG.
One WHITE INSULATOR
One BLUE WRENCH (MNWRENCH)
The difference between the regular Disco combiners and the DLTL version is that the MNPV16HV-Disco-4X is made for a single 16 string inverter, 2 8 sting inverters or one 8 string transformerless where as the DLTL is set up for 8 strings in and 2 strings out for Dual MPPT on transformerless
MNPV16HV Assy Instructions
Two Inverter Conversion
NON-Isolated Conversion
Parallel Conversion
Read PDF on the Discos
California Residents: Warning
ACCESSORIES

MN1000FUSE-xx-10PK
-
$50.50
Goes with MNTS fuse holder. The fuses are industry standard 10mm x 38mm fuses.
---

MNTS-12PK
-
$84.00
MNTS - Mersen Touch Safe Fuse Holder for10x38 mm fuses 1000VDC 30 amp Din rail mount Use in the MNPV combiners for high voltage string inverters. MNTS-12PK
---