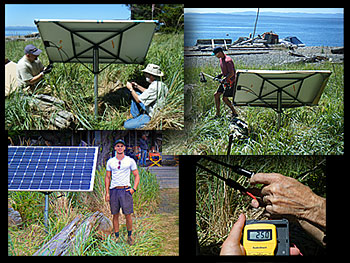 Story by Bo

North of Seattle and south of Vancouver is where you will find the San Juan Islands. This is a very special place to many people, including myself. My family built a cabin on Johns Island from the ground up using logs, nails and hard work. We had no electricity, that is, until we installed an off-grid solar system.

Our electrical needs were modest compared to most. We needed a few LED lights and a couple of AC outlets. Our single DC demand consisted of a water pump for the rainwater catchment system. This amounted to about 1 kW of usage per day. Once we decided upon the spot for the solar panel, the digging and installation began. With the solar panel in place, we built a heavy-duty wooden enclosure for our batteries, inverter, charge controller and e-panel. Getting the enclosure mounted was the physically hardest part of the installation. Next, we installed our MidNite Classic 150 Lite charge controller and 125STMM E-Panel, along with a Magnum 1012 inverter/charger and two 12V AMG batteries.

We connected everything and crossed our fingers. To our delight the lights turned on! I felt accomplished and my Dad was overjoyed. This was a great experience and something that anybody can do with a little direction or electrical experience.